We hope you enjoy your visit with our canine family.
You'll notice throughout our pages that our site bears a distinctive Scottish trend.
Both Rhona & Aileen were born in Glasgow, Scotland.
The top border on the pages is a replication of the Tartan of the "Murray's" of Tullibardine, Scotland.
This website is best viewed at
1024x768
Do you really, really want a Golden Retriever? Click here to find out.
What is a Golden Retriever? Click here to download the GRCC Illustrated Standard



Established in 1988 by
Aileen Murray and Rhona Murray
Montreal, Quebec and Martintown, Ontario
Proud Members of:
Canadian Kennel Club
Golden Retriever Club of Canada
Golden Retriever Club of Quebec

Site updated july 29th, 2013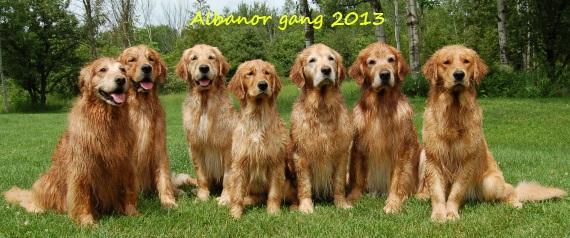 We are not planning any litters in the near future. If you are looking for a puppy please check the Golden Retriever Club of Canada website or the Golden Retriever Club of Quebec website for more information